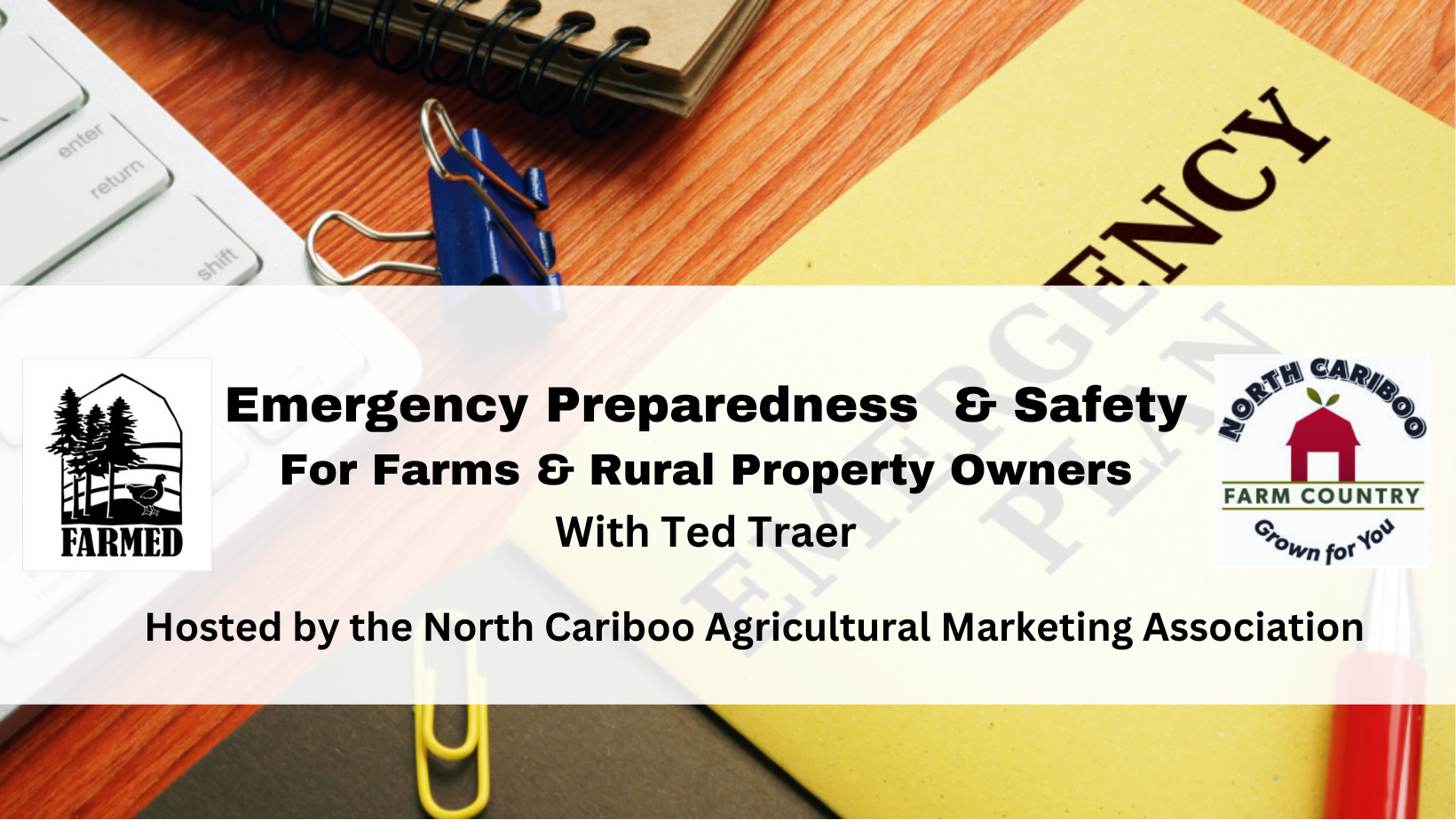 Workshop #1: Emergency Preparedness & Safety For Farms & Rural Property Owners
Date: January 19 & 20 2024 | Time: TBA | Location: Forestry Innovation Center, Quesnel
Registration Fee: FARMED members - $20.00 | Public - $25.00
How to Register: Click Here
This 1 1/2 day event will introduce participants to the many organizations involved in emergency response and provide an opportunity for asking questions and understanding their roll as well as the property owners roll. The second in class part of the event is a hands on workshop where participants will further that understanding and begin to formulate an emergency plan for their individual property.
Friday Night: meet & greet networking session Talk with delivery specialists one on one about considerations and preparedness ideas and concepts for everyone
Saturday: Hands On Workshop focused on rural property owners / farms to develop an Emergency Preparedness Plan for their property delivered by FireSmart specialists. Highlight available programs to assist homeowners and bona fide farms. Provide an understanding of FireSmart concepts and identify tips and tricks to reduce the risk of ignition to your home and structures Presentations by in delivery specialists on a wide variety of emergency preparedness aspects applicable to everyone
About your Presenter:
Ted Traer, RPF (Ret) owns and operates Moose Meadows Farm located in Bouchie Lake with his wife, Heloise. Ted is a strong advocate for firesmarting having spent over 30 years with the Ministry of Forests often working with fire generated ecosystems and on active wildfires
Funding for this Knowledge and Technology Transfer Program event is provided by the governments of Canada and British Columbia through the Sustainable Canadian Agricultural Partnership, a federal-provincial-territorial initiative.