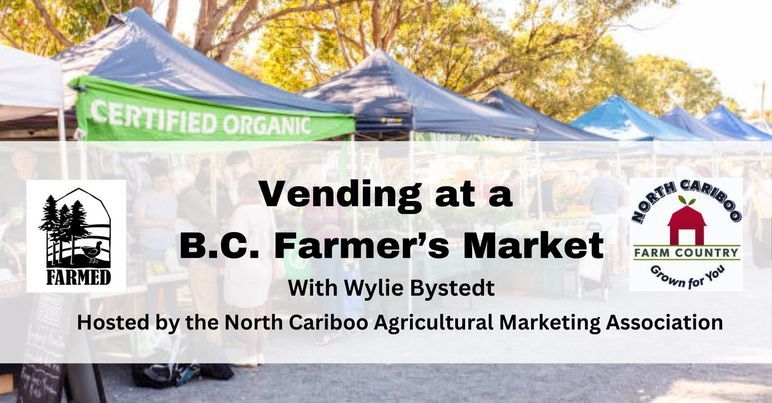 Workshop: Vending at a Farmers' Market
Date: January 27th, 2024 | Time: 9am – 2:00pm | Location: Kersley Community Hall
Registration Fee: FARMED members - $40.00 | Public - $50.00
How to Register: Click Here
This is a 5-hour hands-on and interactive workshop introducing participants to selling at a Farmers' Market. The workshop will cover rules and regulations, managing risk and liability, social media marketing, equipment, displays and signage, customer service, etc. The workshop is being facilitated by long-time FARMED member, Wylie Bystedt.
About your Presenter:
Wylie Bystedt is the President of the BC Association of Farmers Market. She is a champion and advocate for both vendor and market sustainability. Wylie is actively involved in local markets, as well as additional regional agriculture and economic development organizations. Wylie operates a farm in Alexandria, south of Quesnel, and has facilitated many workshops and seminars on agricultural diversification and selling at the farmers' market.
Funding for this Knowledge and Technology Transfer Program event is provided by the governments of Canada and British Columbia through the Sustainable Canadian Agricultural Partnership, a federal-provincial-territorial initiative.